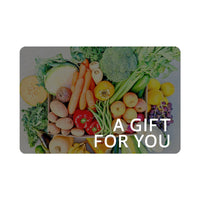 Gift Card
$50.00
Free Delivery
On all box orders over $50
100% Certified Organic
From food to fork 
Same day Pick Up (Now Available)
On all box orders
Give the gift of organics and support local this year with a Dunn & Walton Gift Card. 


Following purchase you will receive an email link to the gift card. You will be able to print the gift card for the recipient, or alternatively you can forward them the link. 
The gift card contains a code which the recipient can use to redeem the card online. Please note that online gift cards are only available to redeem online and cannot be used in-store.
All gift cards are valid for 3 years from date of purchase.